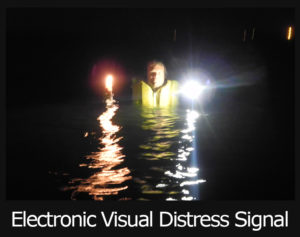 Be Seen – Be Saved! 
     CLICK ON EACH PHOTO FOR PRODUCT SPECIFICATIONS 
The person in the water is holding a RED HOT Pyrotechnic flare that will soon burn out.  Good thing he has a North American Survival Systems EF-20A-1 WHITE Lightning Electronic Flare.
The EF-20A-1 White Lightning is around 5 times brighter than the leading rescue lights. 
A Brighter Strobe is the best choice to effectively signal attention to your situation.  All North American Survival Systems strobes flash the FAA and Coast Guard Approved one flash per second and exceed Approval standards for range and intensity.
Having this Essential Gear with you means you may be seen earlier and rescued quicker by anyone looking at you.  Click on the picture to BUY ONE NOW and add our Electronic Flares to your ESSENTIAL GEAR safety equipment checklist.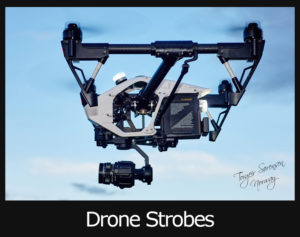 DRONE STROBE LIGHT
DS-30 drone strobes are highly visible from all directions.   
They are designed to prevent drone collisions with aircraft and drone contact with people reducing the liability of the operator. 
The additional benefit to the drone operators is they can maintain visual sight and control of their drone up to twice as far in the daylight.
We have several options for drone anti collision strobes and drone navigation lighting:  We are the only Government tested full hemisphere LED strobe on the market.  Click on the drone photo to see our strobes.  BUY ONE NOW and Light up your sky with a DS-30 Drone Strobe. 
 The FAA recognizes our Government tested 5 mile technology and has approved many COA and 107 Waivers for applicants using North American Survival Systems DS-30 and EF-20A-1 drone strobes.  
United States Coast Guard Alternatives to Pyrotechnics Test Report. 
See our product #19 on pages 5 and 20.  We were the only compact strobe seen at 5 miles compared to other products tested.  
Download and read the USCG test report. ADA558775